ЭЛИТНЫЕ АПАРТАМЕНТЫ, ВИЛЛЫ "De Luxe", КОТТЕДЖИ, КВАРТИРЫ НА ЧЕРНОМОРСКОМ ПОБЕРЕЖЬЕ КРАСНОДАРСКОГО КРАЯ, СОЧИ
| | | | | | | |
| --- | --- | --- | --- | --- | --- | --- |
| СОЧИ | АДЛЕР | ДАГОМЫС | ХОСТА | КУДЕПСТА | КРАСНАЯ ПОЛЯНА | ЛАЗАРЕВСКОЕ |

ELITE REAL ESTATE SOCHI

| | | | | | | | | | | |
| --- | --- | --- | --- | --- | --- | --- | --- | --- | --- | --- |
| HOUSES | | VILLAS | | APARTMENTS | | PLOTS | | COMMERCIAL | | BUSINESS |
| | | |
| --- | --- | --- |
| ЭЛИТНЫЙ КУРОРТ СОЧИ | | ELITE RESORT SOCHI |
Luxury Real Estate ★ Sochi ★ Adler ★ Hosta ★ Dagomyis ★ Matsesta ★ Krasnaya Polyana
ELITE REAL ESTATE FOR HOUSING, REST AND BUSINESS IN SOCHI, ADLER, KRASNAYA POLYANA
Sale of elite resort real estate in the city of Sochi is a core business of our company. We have a large database of offers, including luxury apartments, luxury homes, villas and penthouses in various cities of the Black Sea coast. The main advantage when contacting our company is the high professionalism of the staff to provide services in the selection of elite housing or commercial real estate. Our agency has been working in the elite real estate sector of Sochi for a long time and offers a wide selection of a wide variety of elite class properties. Among them are apartments, penthouses, apartments, houses, villas and cottages by the sea, as well as hotels, hotels, medical sanatoriums, health pensions, spa treatment centers, medical centers, large residential, hotel, retail, office and entertainment complexes.
ELITE REAL ESTATE SOCHI ELITE APARTMENTS SOCHI ELITE HOUSES SOCHI ELITE VILLAS SOCHI ELITE SOCHI
LIVE & RELAX BY THE BLACK SEA
ELITE PROPERTY OF SOCHI

САНАТОРИИ & ОТЕЛИ
ОЛИМПИЙСКАЯ ДЕРЕВНЯ
ЭЛИТНЫЕ ДОМА & ВИЛЛЫ
КРАСНАЯ ПОЛЯНА
ELITE RESORT REAL ESTATE IN SOCHI ELITE REAL ESTATE ADLER ELITE REAL ESTATE RED POLYANA POLYANA
SALE HOTELS ★ TREATMENT SANATORIES ★ HOTELS ★ HOTEL BUSINESS
SALE RESTAURANTS ★ CAFES ★ SHOPS IN SOCHI ★ ADLER & RED POLYANA
SALE EXCLUSIVE APARTMENTS PREMIUM CLASS IN SOCHI
Our company for many years we have been selling luxury real estate, land and ready business on the coast of the Krasnodar Territory and we have achieved some success in this business. All the nuances of choosing and inspecting real estate, acquaintance with documentation and up to the purchase of apartments, houses, villas, commercial real estate, transaction support, assistance in obtaining a certificate for housing in residential complexes, all this is our company's professionals ready to do in a short time for their clients. Buyers can be sure that the purchased property will be framed according to all the rules. Buying luxury real estate in Sochi, Adler, Khost, Lazarevskoye, Dagomys, Mamayka, Loo, Krasnaya Polyana will leave only pleasant impressions of mutual cooperation.
Our advantages:
1. Caring about the interests of the client;
2. High professionalism of the staff;
3. Full legal support of all transactions;
4. Large and current base of elite real estate;
5. Long experience of successful work in real estate;
6. Support of real estate transactions "turnkey";
7. Free consultations for potential clients.
Sochi Real Estate Agency will help buy and sell residential and commercial real estate in Sochi. The section of ads for elite real estate Sochi has an actual database of objects: resort real estate without intermediaries and from owners, as well as in the database of the real estate agency in Sochi you can find ads with detailed descriptions, photos of real estate: luxury apartments, elite houses, penthouses, villas, mansions, new buildings, land plots for individual housing construction and construction for Zh2, Zh3, commercial real estate, business sale in all areas of Greater Sochi: Adler, Lazarevskoye, Sochi, Krasnaya Polyana, Khosta, Kudepsta, Mamayka, Dagomys. A real estate agency will help you quickly select and buy an apartment of business class or premium class from a developer in a new building. You can find out the market value of housing, buy or sell real estate at a bargain price in a short time, you can contact our real estate specialists for real estate services.
CONVENIENTLY
PROFITABLE
SAFELY
Meet and post Polite staff of the company
The seller pays us
Sell reliable real estate
We will acquaint with the Big Sochi
We agree on a discount
Checking documents
Provide a choice of objects
Direct purchase
Proper execution of the transaction
CONTACTS
+7-918-632-79-88, doma-na-more@mail.ru
ELITE SPA REAL ESTATE SOCHI ELITE REAL ESTATE ADLER ELITE REAL ESTATE RED FIELD SOCHI
ELITE SOCHI ELITE SOCHI ELITE SOCHI ELITE SOCHI ELITE SOCHI ELITE SOCHI ELITE SOCHI ELITE SOCHI
• Russia's only subtropical resort town is 145 km the Black Sea coast;
• Olympic infrastructure, sports facilities;
• Ski resort "Krasnaya Polyana";
• Modern hotels: Pullman hotels & resorts, Radisson BLU Hotels & Resorts, Stein Hotels & Resorts, Heliopark Hotels & Resorts, Hyatt Regency Sochi Hotel, Swissôtel Hotels & Resorts;
• Luxury resort real estate and business:
Luxury houses, cottages Sochi - Luxury apartments, penthouses in Sochi
Luxury villas, residences in Sochi - Luxury commercial real estate in Sochi
Sochi's luxury real estate includes luxury apartments in business and premium class homes, apartments, penthouses with open terraces, luxury houses, cottages and villas, as well as truly solid mansions in the main resort capital of Russia. Elite real estate in Sochi creates an emphasis on the high status of its owner, and is also the most profitable and reliable method of investing money (investments).
Luxury real estate in Sochi is a safe way to invest. Property prices in Sochi, Adler, Krasnaya Polyana are constantly growing, in addition, investments in luxury real estate have long been recognized by the best way to invest money. Our company has extensive experience in the field of sales of luxury real estate and is one of the leading luxury real estate on the Sochi market. The Sochi elite real estate agency successfully sells in the segment of elite housing.
Our company for elite real estate in Sochi has become one of the leaders of the real estate business in the South of Russia. We have all the offers for selling elite and premium housing in Sochi. Buy luxury property in Sochi, Krasnaya Polyana - an apartment, house, villa, apartment, mansion, penthouse - means to acquire a unique and prestigious residential property.
НThe focus of the company's activities in elite housing in Sochi:
The elite new buildings of Sochi are a segment of apartments, apartments, penthouses in new-build or ready-made modern residential complexes of the highest quality with all kinds of interior finishes. Luxury real estate in Sochi on the secondary housing - an abundance of different assortment of offers from owners of luxury apartments, apartments, penthouses.
Luxury homes, cottages, mansions in Sochi, Krasnaya Polyana - a segment characterized by the author's design of interiors, stylish decor items, and refined furnishings. Suburban elite real estate of Big Sochi is one of the first and most sought-after offers of our agency. The options we offer will satisfy your most demanding requirements.
In our database of real estate in Sochi, a large number of different residential properties, which are sorted by the following parameters:
- prestige and attractiveness of the area of Sochi, Adler, Krasnaya Polyana;
- Eurodesign and the peculiarity of the exclusive interior decoration and, in principle, the entire building as a whole.
If you want to buy luxury real estate in Greater Sochi, then you came to the right place! Due to the quality of work and the information base, our company has achieved certain success in the market for sales of luxury housing. Our customers re-contact us, because they will always be offered the best luxury real estate, a large selection of selling luxury homes, apartments, penthouses at reasonable prices.
The site contains current offers on the choice of luxury apartments and luxury housing in Sochi. Thanks to proven technologies, the purchase of an elite apartment passes quickly and conveniently for you. To buy an elite apartment in Sochi without intermediaries is a difficult and often risky process. To buy an elite class apartment from a landlord in Sochi is undoubtedly possible to face some difficulties. This is a laborious stage, which takes a lot of time. The most dominant risk is the legal component of the transaction, because even a small mistake can lead to deprivation of property rights on real estate. Thanks to the professional experience of our employees, it will be safe and secure for you. While searching for an option that meets the requirements - you will save time and effort, get access to the base of Krasnodar elite housing for sale (including exclusive options available only to customers of our company).
Information about the most elite apartments, penthouses, houses, housing complexes of Sochi can be obtained by contacting the office of our company, or by writing an email. Each sale of a luxury apartment in the city center, carried out by experts of the agency for elite real estate - is more than just a deal. Most of our clients who want to buy an apartment in the center of Sochi receive personalized service and recommend us to their business partners, relatives and friends. You are interested in transactions with elite real estate - contact us, we are open to dialogue and provide real assistance.
ЖИВИТЕ
&
ОТДЫХАЙТЕ У ЧЕРНОГО МОРЯ ПРОДАЖА КУРОРТНОЙ НЕДВИЖИМОСТИ В СОЧИ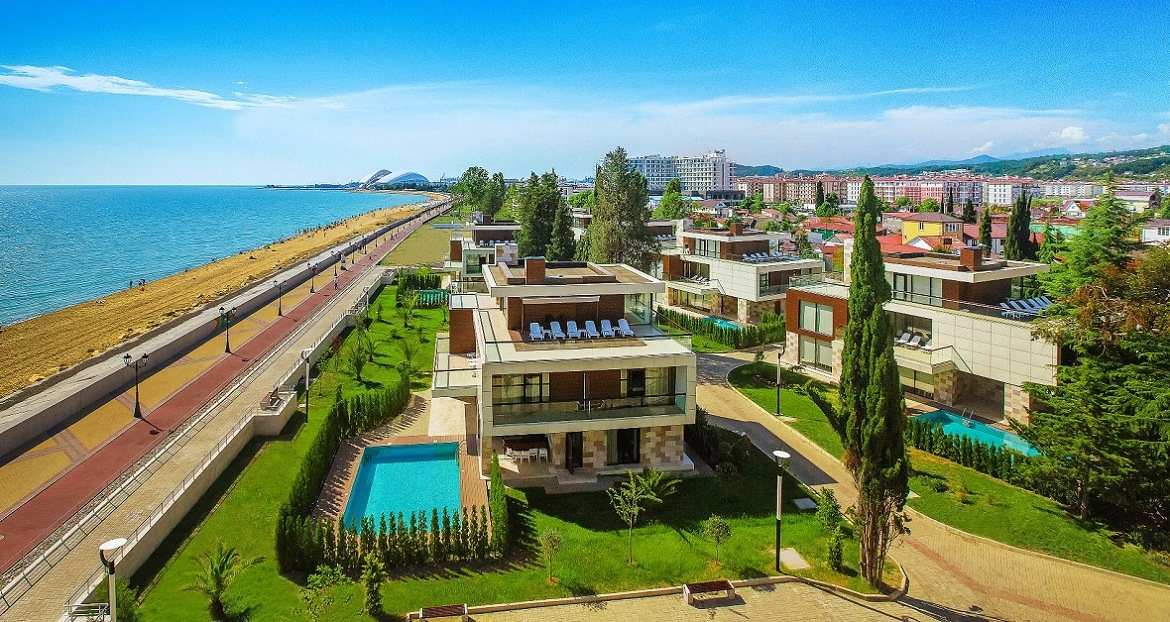 | | | |
| --- | --- | --- |
| УДОБНО | ВЫГОДНО | БЕЗОПАСНО |
| Встретим и разместим в Сочи | Нам платит продавец | Продаем надежные объекты |
| Вежливые сотрудники компании | Договоримся о скидке | Проверяем документы |
| Ознакомим с Большим Сочи | Покупка напрямую | Правильное оформление сделки |
| Предоставим на выбор объекты | Акции при продаже | Безопасные схемы расчета |
КОНТАКТЫ
+7-918-632-79-88, doma-na-more@mail.ru
REAL ESTATE
&
BUSINESS ON THE BLACK SEA
&
AZOV COAST
В базе данных компании КУБАНЬМАКЛЕР: недвижимость, земельные участки на Черноморском и Азовском побережье Краснодарского края: объекты коммерческой, промышленной, жилой недвижимости и действующего бизнеса - кафе, магазины, пансионаты, санатории, базы отдыха, гостиницы, отели, земельные участки, дома, коттеджи, виллы, особняки, квартиры, апертаменты, резиденции, недвижимость Сочи, Адлер, Дагомыс, Хоста, Красная Поляна, Анапа, Геленджик, Туапсе, Ольгинка, Криница, Дивноморск, Джубга, Новомихайловка..